Online Physiotherapy Counseling
MoovBuddy+ is accessible, practical and affordable way of physiotherapy. With the guidance of expert physiotherapists, regain your physical health with personalized and evidence-based exercise programs.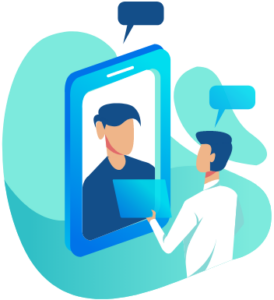 In MoovBuddy+, your physiotherapist is with you, wherever you are!
Join online counseling sessions with your physiotherapist, wherever and whenever you want. Get access to your personalized exercise programme, prepared by your physiotherapist on MoovBudy. Evaluate your weekly progress with your physiotherapist and get healthier with each step.
Have The Pre-Interview for Free

Make the first step by addressing your issue with the guidance of an expert physiotherapist in 15 minute free pre-interview. Meet with your physiotherapist, and get to know about the sessions and your recovery journey.

Book The First Session with Your Personal Physiotherapist

A personalized physiotherapy is the key for an effective therapy in terms of time and quality. Have a quick start into your recovery journey according to your goals such as: reducing you pain, correcting posture, or increasing the range of motion. In one-on-one sessions, get your proper assessment and in light of your needs and lifestyle. After the session you'll have the personalized exercise program designed by your physiotherapist.

Recovery On Your Pace

Restore your physical health with exercise plan assigned by your personal physiotherapist in MoovBuddy App. Recover on your pace with the guidance of your physiotherapist with weekly meetings and close monitoring. While your physiotherapist will guide you, monitor your progress, and keep you on track, you will also have video-explained exercises within your reach every time.